Ideation + UX + Functional prototype
Digital product journey from the entrepreneur's big idea to the investor pitch, completed in just two months.
The founders of Kristal.AI needed a convincing and lucid way to pitch their business idea to prospective investors. We provided them not just with a slide deck or a few statistics, but with an interface that functioned exactly the way the final product would. Here's how Kristal.AI launched itself as a digital platform for safe, transparent investing.
Often, clients have a big 'digital idea' that they believe can significantly transform the industry narrative. However, when presenting the idea, merely citing competitors' success stories isn't enough; a more tangible, relevant approach is needed.

Kristal.AI (previously O2O Technologies), a fintech start-up, visualised potential in the roaring success of Motif, an algorithm-driven vertical-focused investing platform. Kristal.AI decided to develop a digital investment platform that would help retail investors invest and track their investments at one end, while at the other end, retail advisors with the necessary permissions would manage the investors' portfolios. Being a start-up team, the founders wanted to raise funds for their venture and needed an innovative solution for a great pitch.
The key highlights of the digital investment application were:
In summary, Kristal.AI would serve as a digital platform for safe, transparent investing.
"At UIConnect, we believe that time is of the essence in every offering. The sooner we deliver a presentable, functional model, the faster our clients can begin taking the prototype to investors, thus helping them scale. It is also important that we handle the design process end-to-end by coordinating with the client teams, so that our clients can focus on other aspects of their business in peace."
Considering the Kristal.AI team's background, challenges, and expectations, UIConnect suggested developing a functional prototype (sans database) that would not only capture business ideas and the user journey, but could later be integrated with the development team; something that could be demonstrated as a workable solution while highlighting its market potential to investors.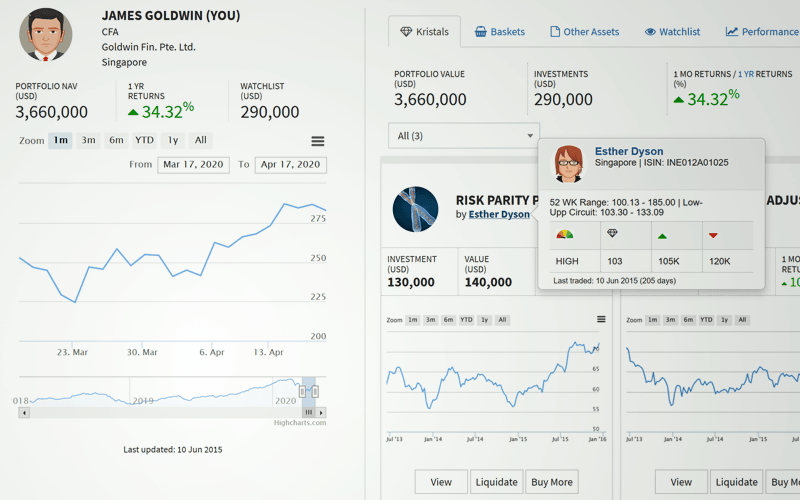 Through one-on-one meetings and video calls, our team set out to understand the essence of the business - industry trends, competition, expected product workflows, technical challenges, the end user's persona, and delivery expectations.

The initial sketches provided by the founders were reviewed and a functional prototype was developed. Now the co-founders could navigate every page of the application / digital investing platform to help them validate ideas and share feedback. The code was developed from scratch. It would, in the future, also provide complete control to the developers in back-end integration. The Kristal.AI concept was visually defined and coded as a repetitive element, which could be replicated across the site at various stages of a user's journey.
"We had this innovative product idea that could be a game-changer in the investment-tech industry. We were looking for a digital design solution provider who could help us convert the idea into a visual form that we could take to our investors and stakeholders. UIConnect was referred to us by an industry acquaintance who had hired them in the past and was very happy with their design and consulting work.

We engaged UIConnect to help us with ideation, conceptualisation, design and UI-UX services for the production of our algorithm-based trading portal and the corporate branding of O2O Technologies."
Disclaimer: UIConnect's case studies cover information available until the time period of our engagement with our clients. Subsequent changes to the ideas / final product that are beyond the scope of our engagement may not be included in the case study. Clients may choose to make changes to their model in subsequent time periods.